10 Memorial Day Diabetic-Friendly Recipes
By Jolie Wiener, May 25, 2020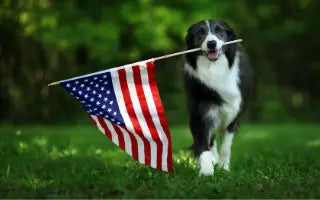 Memorial Day is a great chance to kick-off the beginning of summer with delicious diabetic-friendly holiday recipes, packed with key nutrients.
While it can be easy to take food-filled celebrations too far and indulge in foods like pasta salads and sugary desserts, CuraLife wants to encourage all diabetics out there to stay on the track this weekend with these delicious and simple 10 diabetic holiday recipes.
Here are our 10 delicious diabetes-friendly holiday recipes that everyone will certainly enjoy:
#1 - Sugar-Free Homemade Lemonade
What You'll Need:
Stevia - ½ cup of sugar equivalent

4-6 lemons

Ice

½ gallon of water

Optional: mint sprigs for garnish
Preparation:
Start by squeezing the juice out of the lemons and set aside.

In your serving pitcher, add the amount of ice you desire.

Pour the lemon juice over ice, add stevia, fill the rest of the pitcher with water, and stir thoroughly.

Garnish with lemons/mint if desired.
#2 - Delicious Pistachio Salmon
What You'll Need:
2 salmon fillets (6 ounces each), skin removed

1/4 teaspoon salt

1/4 teaspoon black pepper

2 tablespoons olive oil

3 tablespoons finely chopped pistachios
Preparation:
Preheat the oven to 400°.

Place the salmon fillets on a baking sheet; sprinkle with salt and pepper.

Combine olive oil and pistachios; press onto salmon.

Bake for 12-15 minutes.
#3 - Feta Chickpea Salad
What You'll Need:
1 can (15 ounces) garbanzo beans or chickpeas, rinsed and drained

1 cucumber, chopped

1 pint cherry tomatoes, halved

1 red onion, chopped

1/4 cup chopped fresh parsley

3 tablespoons olive oil

Juice of 1 lemon

1/4 teaspoon salt

1/8 teaspoon pepper

5 cups spinach

1/2 cup crumbled fat- free feta cheese
Preparation:
Place all ingredients in a large bowl. Toss and serve!
#4 - Asian Lettuce Wraps
What You'll Need:
1 tablespoon olive oil

1 pound lean ground turkey

2 scallions, thinly sliced

2 garlic cloves, minced

2 tablespoons minced fresh basil

2 tablespoons lime juice

2 tablespoons reduced-sodium soy sauce

12 Bibb or Boston lettuce leaves
Preparation:
In a large skillet, heat oil over medium heat.

Add turkey and cook for 6-8 minutes.

Stir and break turkey into crumbles.

Add scallions and garlic; cook 2 minutes longer.

Stir in soy sauce, basil, lime juice and soy sauce.

To serve, place turkey mixture in lettuce leaves and fold lettuce over filling.
Optional: Add chopped carrots or cucumbers to turkey mixture for some extra crunch!
#5- Spicy Cauliflower Stir Fry Recipe
What You'll Need:
1 head cauliflower

2 cloves garlic, minced

3 tablespoons olive oil

3 teaspoons spicy paprika

1 medium yellow onion, chopped

salt to taste
Preparation:
Place 1 head of cauliflower in a large pot. Cover with water. Bring it to a boil, then reduce to a simmer for 6-7 minutes. Then drain it.

In a large frying pan, heat 3 tablespoons of olive oil.

Add in chopped yellow onion. Cook until golden brown.

Add in garlic. Cook for 2-3 minutes.

Add in the cooked cauliflower.

Add the spicy paprika, and salt to taste. Cook until the cauliflower begins to turn brown.
#6- Oven Baked Lemon Kale Chips
What You'll Need:
1 head of kale

½ a lemon juiced, or about 2 tbsp

1 tbsp olive oil

½ tsp sea salt
Preparation:
Preheat the oven to 350F.

Pull kale from the stem, wash and then pat it dry with a clean towel.

In a large mixing bowl, use your hands to mix the kale, lemon juice, olive oil and sea salt together.

Lay the kale out in a single layer on a parchment-lined cookie sheet. Bake for 15 minutes. Check to see how the kale chips are coming along. If they are still soft, continue to bake, check every 5 minutes until they're crispy.

Allow to cool.
#7- Healthy Meatballs
What You'll Need:
Package of minced turkey or chicken meat 500 g

diced onion

1 tablespoon of olive oil

1 egg

salt, pepper, and garlic seasoning
Preparation:
To begin you will need to start by mashing the ground turkey or chicken in the bowl to make sure it's out of its packaged shape.

Then continue by adding in the egg and onion and mix until you have a smooth consistency.

Throw in the seasoning and olive oil to your liking and once it's ready start by making it into balls.

Place the turkey or chicken balls in the oven at 390 Fahrenheit, for 25 minutes and make sure to flip halfway through.
#8- Healthy Grilled Steak Salad
What You'll Need:
4 beef tenderloin steaks, cut 1 inch thick (about 4 to 5 ounces each)

1 teaspoon ground coriander

1 teaspoon ground cumin

8 cups baby arugula

1 red bell pepper, chopped

1 cup halved cherry tomatoes

1/2 cup thinly sliced red onion

1/4 cup crumbled reduced-fat feta cheese
Dressing:
5 tablespoons of olive oil

Juice of 3 lemons

3 tablespoons tahini

Salt and pepper to taste
Preparation:
Combine coriander and cumin and press evenly onto the beef tenderloin steaks.

Grill steaks, covered, 11 to 15 minutes (over medium heat on a preheated gas grill, 13 to 16 minutes) for medium rare (145F) to medium (160F) doneness, turning occasionally.

Cut steaks into slices.

Combine ingredients for dressing and set aside.

Combine arugula and dressing in a large bowl; toss to coat.

Divide arugula among four serving plates. Arrange beef on salad; top evenly with bell pepper, tomatoes, onion and cheese.
#9- Grilled Chicken Skewers
What You'll Need:
1/3 cup olive oil

1 tablespoon lemon juice

1 tablespoon grated lemon zest

salt and pepper to taste

2 cloves garlic, minced

4 skinless, boneless chicken breasts, cut into 1 inch pieces

4 bell peppers (yellow, red or green all are fantastic!)

3 zucchinis

1 pint cherry tomatoes

8 (12 inch/30cm) grilling skewers (12 inch/30cm)
Preparation:
In a medium sized bowl, combine olive oil, lemon juice, lemon zest, salt, pepper and garlic. Whisk until ingredients are well combined.

Add chicken, bell peppers, zucchini and cherry tomatoes. Toss in wet ingredients until well coated. Marinate for 20-30 minutes in the refrigerator.

Thread chicken pieces and vegetables on skewers.

Heat barbecue to medium heat. Grill skewers on lightly oiled grill, turning once with tongs.

Grill until chicken is cooked thoroughly, about 5 to 8 minutes.
#10 - Salad With Kale, Apples & Pistachios
What You'll Need:
– 1 bunch of kale (about 8 cups when finely chopped) – 1 large Granny Smith apple – ½ cup shelled pistachios – 2 ounces crumbled feta cheese – 3 tablespoons hemp hearts – ¼ cup extra virgin olive oil – 2 tablespoons white balsamic vinegar – 2 tablespoons + 2 teaspoons honey – Juice from ½ lemon – ¼ teaspoon cinnamon – ¼ teaspoon fine sea salt + more to taste
Preparation:
To create the pistachio hemp clusters, make sure you cover a plate with parchment paper. Then roughly chop the pistachios. Place them inside of a small saucepan over medium-low heat. Add in hemp hearts, cinnamon, and a pinch of sea salt. Then dry roast for five minutes, tossing occasionally.

Add two tablespoons of the honey in the saucepan, stir to evenly combine.

Remove the mixture from the heat and transfer to the pre-made parchment paper-lined plate. Press the mixture into the plate with either a spoon or your hands. Allow it to cool while you go ahead and prep the rest of the salad.

Wash the kale and remove the tough stems. Make sure to thinly slice the kale, and then place it inside of a large bowl.

Make the dressing by simply squeezing the lemon juice into a small bowl. Next add in olive oil, white balsamic vinegar, honey, and ¼ teaspoon of sea salt. Whisk together.

Pour the dressing on top of the kale you sliced up. Begin to massage the kale by grabbing a bunch at a time, squeezing and rubbing it together with your hands. Continue to massage the kale for at least five minutes.

Finely dice the apple and then add to the kale bowl. Add in the delicious crumbled feta cheese.

Once the hemp and pistachio mixture has cooled, break it off into clusters onto the place, and add them to the salad. Add sea salt for taste.
We sincerely hope you enjoy this Memorial Day as much as possible.
Remember, this year is a great opportunity whether you're enjoying the holiday at home, able to host a small feast or bringing a favorite dish to a celebration, to try the above but also enjoy our other amazing recipes to
boost your immunity
with diabetes!