5-home-workouts-for-type-2-diabetics-stretching-yoga-and-more
By Sara Barulli, March 30, 2020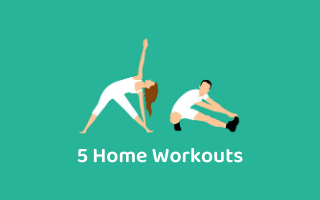 We know that living a non-active lifestyle is unhealthy, even risky for diabetics, but finding the right exercises to keep the body active and healthy while staying at home can be hard to do. Luckily, we have found some great at home exercises to help you keep your body moving and mind busy while at home! These exercises can be done daily, giving your body a chance to move, stretch and work out. And it's a great way to keep up a great lifestyle and stay on top of diabetes! While we know that you may not have a full "home-gym" set in place, it is likely you will have some weights or resistance band around that you can use for exercises. If not, no worries! There are plenty of exercises you can do without any equipment at all!
#1 Stretching
Stretching is great for us especially when we are limited to moving around outside the house. So, remember to stretch to avoid "at home stiffness."
Stretching provides a number of health benefits including:
Reduced stress

Improved mood

Increased blood flow
#2 Chair exercises
Finding ways to workout with household objects is both rewarding and fun!
Perform 2 to 3 sets of 10 to 15 repetitions of the following exercises each day, from the comfort of your favorite room at home:
Calf raises
: Keeping your knees straight, rise onto your toes and hold for 2 seconds before returning your heels to the ground.
Table push-ups
: Stand a large step away from your kitchen or dining room table and lean in, so your straight arms touch the table. Bend your elbows and move your chest toward and away from the table.
Chair squats
: Using a steady chair, move from seated to standing positions (and back), with your arms or crossed in front of you, hover for 2-3 seconds before reaching a full standing position.
Leg lifts
: Extend your leg out in front of you (even under your desk) for 20-30 seconds at a time.
#3 Weightlifting
While you may not have gym weights laying around, feel free to use household items such as canned goods or water bottles! Bicep Curl: Curl weights up to shoulder level while keeping your elbows close to your torso. This exercise will help strengthen your upper arms. Reverse Curl: Similar to the bicep curl, switch your hands around on the weights and lift, keeping your elbows close to your torso. Forward/Front Dumbbell Raise: Hold weights and lift straight up in front of you, alternating arms.
#4 Resistance band exercises
If you want to switch things up, you can also use a resistance band for additional strengthening! Resistance bands can be used to strengthen your arms, abs, and leg muscles!
#5 Running in place
While this may sound obvious, it is important that type 2 diabetics get their steps in! Make an effort to be active around the house, even if it means doing a few extra laps around the kitchen!
Or, try to do 5 reps of 1 minute running in place, otherwise known as "high-knees." This is a great way to up your daily steps, and get some quick and easy cardio in!
There are tons of ways we can be keeping active and maintain a healthy lifestyle right now. When you exercise, your body releases endorphins. Endorphins trigger a positive feeling in the body which we can definitely all benefit from right now!
We asked our "Winning Type 2 Diabetes Together" community group on Facebook if they would like to follow along with an online training session showing how to keep active, and people were most interested in learning proper stretching!
Here is Talia, a certified yoga instructor showing us the best ways to stretch while staying indoors!
What are your go-to at home exercises? We would love to hear!
Share with us on the "Winning Type 2 Diabetes Together" Facebook group".