The Future of Diabetes Management
By Sara Barulli, July 05, 2017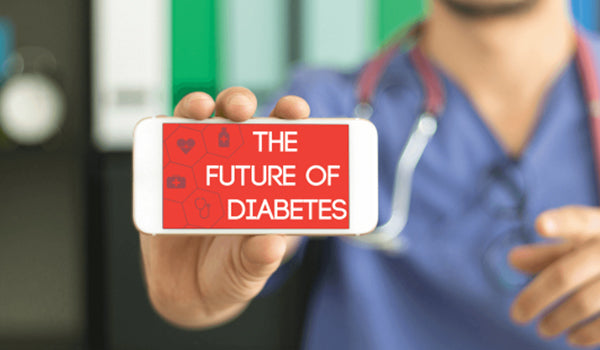 When diagnosed with diabetes, it is always advised to do some of your own research in order to understand the condition to the fullest. This educational experience, learning about the history and characteristics of diabetes, is very important in order for you to have the arsenal to build and manage your condition in the future.
Diabetes has existed for ages, you can read about it in our previous article on the "History of Diabetes Treatment".
But what lies in the future? The way we will manage our condition, feel our bodies and control our daily routines are bound to change.
New studies and breakthrough technologies are trying to create a better, healthier and easier life for people with diabetes.
Here are some examples of what lies ahead:
1. Apps and Smartphones: There are countless Apps and gadgets that target the needs of people with Diabetes or Pre-Diabetes individuals. Here are some of the more well-known organizational apps:
From calorie counting to nutritional guides, there are many Apps which cater specifically to planning meals and becoming an educated eater. Otherwise, there are countless Apps that are concerned with simply keeping a large amount of information concerning one's condition in one place. Many Apps simply give you an interface which lets you visualize your A1C levels, regular glucometer readings, and medication intake, all in one place.
If we zoom out and take a bird's eye view, we are happy to say that gadgets are becoming a powerful partner in the fight against Diabetes, from young to old, any person can reap the benefits of technology at the touch of a finger. Apple is specifically targeting diabetics in the production of their new operating systems, smartphones, and Apple Watch, as you can read about here.
2. Glucometers 3.0: From tattoos, to contact lenses, to "Sweat Detectors" there are newer and advanced ways for diabetics to keep in touch with their condition. Developers have invented a tattoo that changes color based on one's blood glucose level. If one's level is too low, the tattoo will go from blue to brown. Once more normal levels are reached, the tattoo returns to its original blue. Also "scientists are creating wearable devices that use sweat to understand the different conditions of the body." The device sends updates continuously to your smartphone through a connecting app.
There are many innovative products in the glucose measurement market, two of our personal favorites are "MyDario" and "FreeStyle Libre".

Dario is a personalized, pocket-sized all-in-one glucose meter that connects directly to your smartphone, logs and tracks your sugar levels and helps you know how your food and exercise are affecting your diabetes while providing you with great insights on how to improve your diabetes management.

The "FreeStyle Libre" flash glucose monitoring system is a smart glucose meter that makes glucose measuring an easy, pain-free experience (forget about Lancets!).
The system is built of a sensor that is applied on your arm (needs to be changed every 14 days) and a glucose meter that simply scans the sensor and gives you a result instantly, meaning you can measure your levels anywhere at anytime!
The meter also provides helpful insights about your sugar levels based on your results.
Of course, comfort and ease of use have their price and the FreeStyle Libre system is not cheap. However, we are sure that, with time, prices will go down and we can all enjoy a pain-free, constant measuring experience!
3. The Technology Eco System: One of the most promising aspects to come out of the future of Diabetes, is the interest that big tech companies are taking in the disease. Alphabet, Google's parent company recently invested 300 million into Diabetes research, and Amazon is holding a contest with hundreds of dollars in prizes to see who can build the best Diabetes App for Alexa.