Healthy Christmas Fruit Cake
By Jolie Wiener, December 22, 2021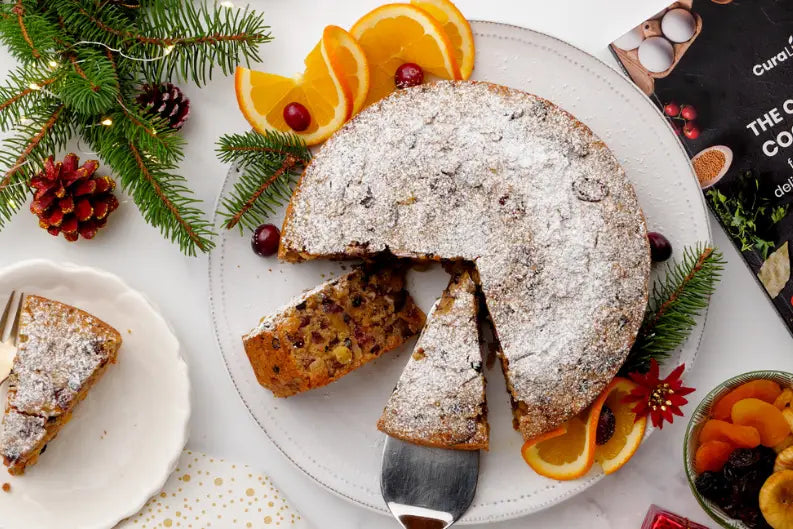 Christmas cakes are all the rage, we know it! So join in the fun and indulge on a healthy version of the well known Christmas Fruit Cake! 
Ingredients
500 grams mixed dried fruits
75 grams walnuts (3/4 cup)*
1 orange
125 grams almond flour/meal (1 1/4 cups)
67 grams coconut flour (1/2 cup)
1/2 tsp bicarb soda
1/2 tsp salt
3 tsp mixed spice *
1 tsp ground cinnamon
5 eggs
50 grams butter or coconut oil, melted (1/4 cup)
1 tbsp vanilla extract
60 mL amaretto or other liqueur of choice (optional) – if you don't use this I recommend adding an extra 60mL of orange juice instead
GLAZE (OPTIONAL)
2 tbsp honey or other liquid sweetener
2 tbsp amaretto or other liqueur of choice
Instructions
Start by soaking the fruit. Fill your kettle and pop it on to boil while you organise all the dried fruit into a large bowl. If you're using larger fruit like dates and apricots, roughly chop them up first (my quick tip: snip them with kitchen scissors – it will save you so much time!). Pour the hot water over the fruit and allow to sit for 10 to 15 minutes to soften and then drain and allow to cool to room temperature (get on with your cake prep while this is happening).
Preheat your oven to 150 C. Line a 20 cm cake tin (preferably spingform) with baking paper along the base and sides.
Combine the almond flour, coconut flour, bicarb, salt, mixed spice and cinnamon in a large mixing bowl. Zest the orange and roughly chop the walnuts, and add the zest and walnuts to the bowl too. Keep the orange.
In a separate bowl, whisk together the eggs, melted butter (or coconut oil), vanilla and amaretto (or extra orange juice if you aren't using liqueur). Squeeze in the juice of the orange (doesn't matter if some pulp goes in).
Create a well in the centre of the dry ingredients and gradually stir in the wet mixture, stirring as you go (coconut flour is very absorbent so it's better to add it gradually). You should end up with a very thick batter, almost like a wet crumbly dough.
Make sure your soaked fruit is well drained, and then add this to the cake batter. Fold it in with a spoon until combined evenly.
Scoop the cake batter in to your lined baking tin and press down with your fingers or the back of a spoon until there are no gaps and the top is smooth.
Bake the cake for between 60 – 70 minutes, or until the top is well browned and the centre feels firm to touch.
If you're going to glaze the cake, do so immediately while the cake is hot, brushing on your glaze of choice with a pastry brush. You can also poke a few holes in the cake and then drizzle it over, if you want to use a lot and really soak the cake. To use the glaze I have suggested above, simply heat up the honey so it's really runny, mix with the amaretto and then brush over the top of the cake.
Allow the cake to cool in the tin for 30 minutes and then place on a wire rack to cool to room temperature. (Store in the fridge for about 1 week or freeze for a longer life.)
Enjoy!