Keto Blackberry Coffee Cake
By Jolie Wiener, December 14, 2021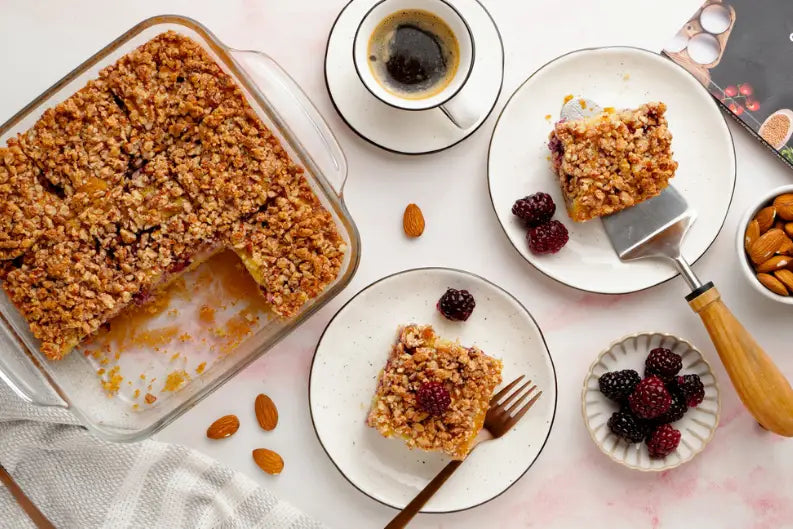 We all know what comes with the holidays..Delicious food around the house all the time! We aren't here to interrupt that. We are just here to make it healthier, and just as tasty! Don't miss this cake recipe.. good for breakfast, snack or dessert! 
Ingredients
Cake Ingredients:
1 ¼ cups almond flour
¼ cup coconut flour
1 teaspoon baking powder
½ cup Joy Filled Eats Sweetener (or see alternatives in recipe notes)
⅓ cup melted coconut oil
½ cup canned coconut milk
1 teaspoon vanilla
4 eggs
Topping Ingredients:
2 cups blackberries
1 cup almonds
2 tablespoon Joy Filled Eats Sweetener (or see alternatives in recipe notes)
2 tablespoon coconut oil
Instructions
Preheat oven to 350.
Stir together the dry cake ingredients in a medium bowl. Add all the other cake ingredients and mix well with a wooden spoon. Spread in a greased 8 x 8-inch baking dish. Sprinkle the blackberries on top of the cake batter.
Bake for 15 minutes.
Meanwhile, combine the ingredients for the topping in a food processor. Process until the nuts are chopped and wet crumbs form. Sprinkle evenly over the partially baked cake.
Bake for an additional 40-55 minutes until the cake is firm to the touch, golden, and doesn't jiggle when lightly shaken. The center should feel as firm as the edge when lightly pressed with your fingertip.
The CuraLife Newsletter
Our newsletter is packed with valuable insights, including expert guidance on managing chronic health conditions, tips for maintaining a healthy lifestyle, and updates on the latest breakthroughs in medical research.