Keto Italian Sausage Zucchini Boats
By Sara Barulli, October 01, 2020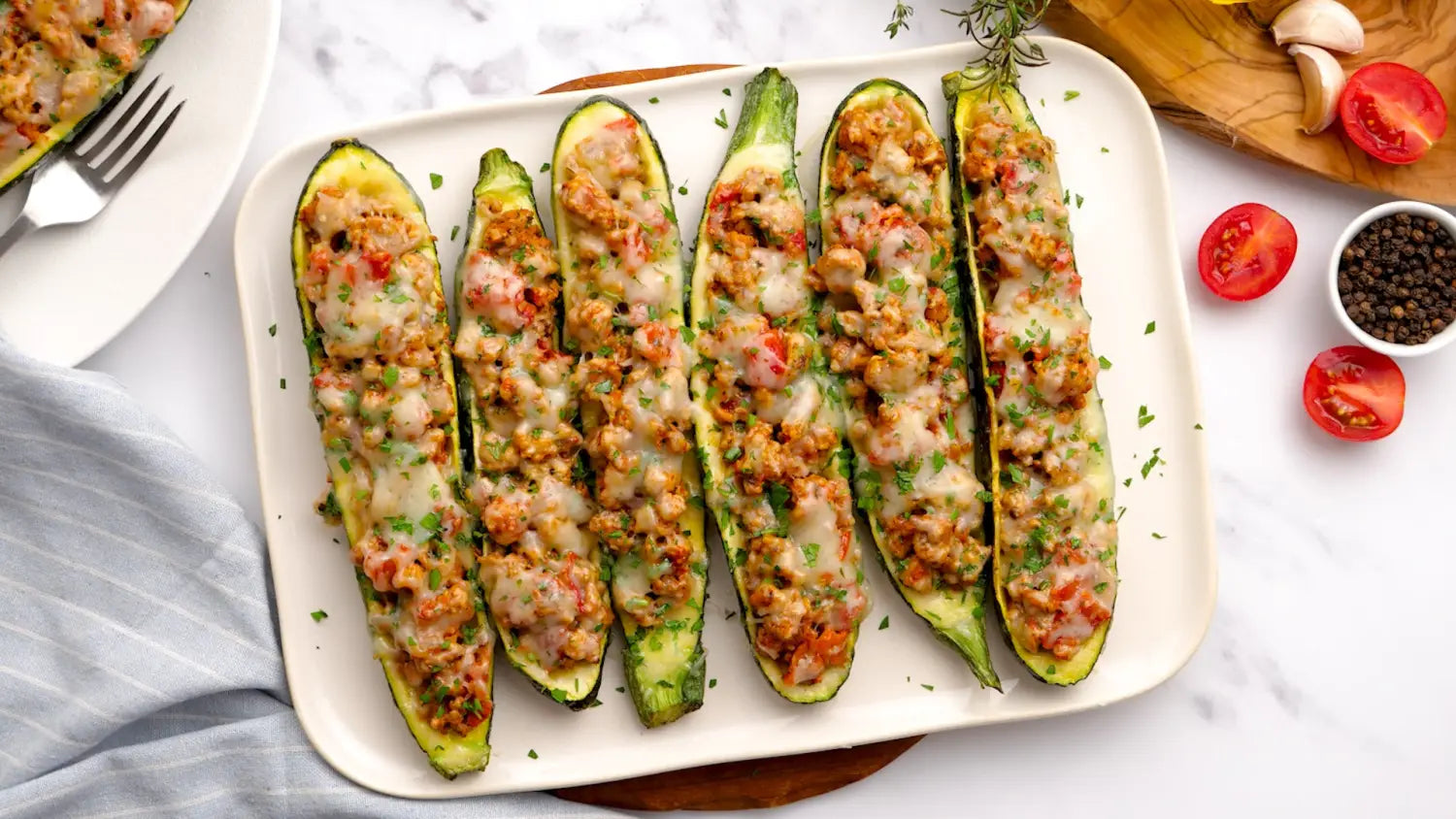 This easy "Italian sausage stuffed zucchini boats" is a healthy & delicious recipe which takes 10 minutes to prep.
Ingredients:
4 zucchini
1lb Italian pork sausage
2 garlic cloves
14.5 oz diced tomatoes
parmesan cheese (1/3 cup)
Italian seasoning
onion
olive oil
a pinch of salt
Method for the zucchini:
Prep zucchini: Cut the zucchini in half, lengthwise.
Scoop out the center of the zucchini: You can use a spoon or melon baller to scoop out some of the zucchini, so that you have room for the stuffing.
Roast the zucchini: Drizzle it with some olive oil and sprinkle with salt, then bake until it's soft.
Method for the sausage filling:
Cook your sausage filling: Saute onions, sausage, and garlic together.
Finish filling: Then you'll remove from heat and stir in some canned diced tomatoes, Parmesan cheese, and Italian seasoning.
Stuff zucchini boats: Top your keto zucchini boats with the filling and then some shredded mozzarella.
Bake the stuffed zucchini: Into the oven they go to get nice and melt-y!
Nutrition facts, 1 portion (two boats):
582 calories
29 grams protein
44 grams fat
11 grams net carbs
The CuraLife Newsletter
Our newsletter is packed with valuable insights, including expert guidance on managing chronic health conditions, tips for maintaining a healthy lifestyle, and updates on the latest breakthroughs in medical research.