Lemon-Pepper Crusted Fish & Veggie Tray Bake
By Jolie Wiener, April 13, 2021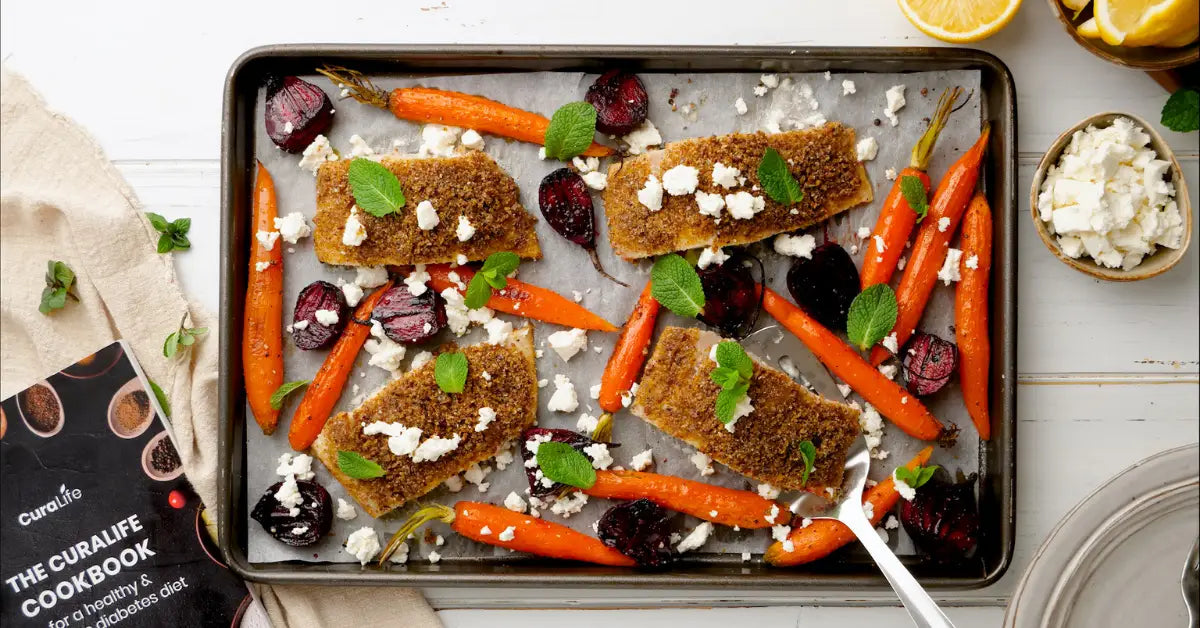 As we approach the warmer spring months, you might want a light and colorful dish to fill you up! We have the perfect fit for you. Plus, we always say that the best dishes are the ones filled with color and texture! Well here you have it: color, flakey, crispy, and flavorful! Let's go! 
INGREDIENTS
6 small beetroot bulbs, trimmed, peeled, halved
2 bunches baby carrots, peeled
4 (about 200g each) firm white fish fillets
30g (1/3 cup) dried breadcrumbs (seasoned)
80g low-fat feta, crumbled
1/2 cup fresh mint leaves
METHOD
Preheat oven to 200C. Place beetroot and carrots in a large roasting pan. Spray with olive oil. Season. Bake for 40 minutes or until tender. (See note.)
Arrange the fish fillets among the vegetables in the pan. Sprinkle the breadcrumbs on top of each fish fillet, pressing firmly to coat. Spray with olive oil. Bake for 15 minutes or until the fish flakes when tested with a fork.
Sprinkle the feta and mint over the fish and vegetables.
The CuraLife Newsletter
Our newsletter is packed with valuable insights, including expert guidance on managing chronic health conditions, tips for maintaining a healthy lifestyle, and updates on the latest breakthroughs in medical research.