November is National Diabetes Month - Make YOUR Health Plan today!
By Sara Barulli, November 02, 2021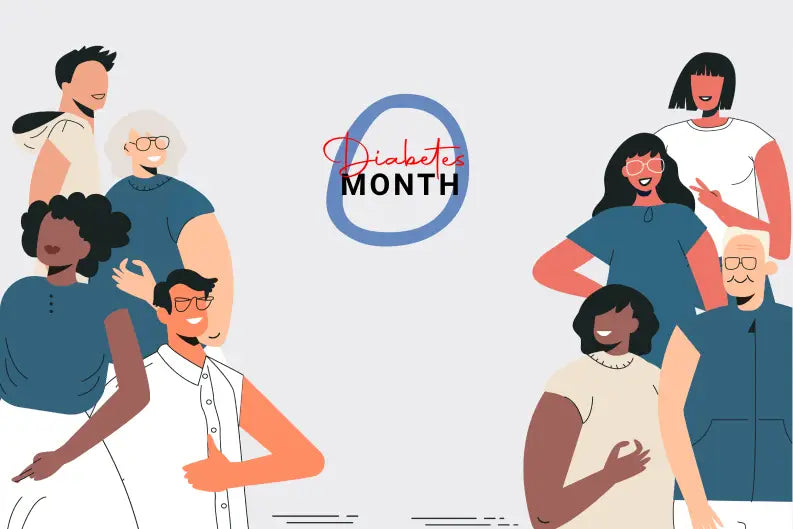 Diabetes can be the cause of courage, self-awareness, empathy, appreciation, understanding, maturity, persistence, compassion, substance, personality, and guts! This Diabetes Month, let's focus on the positives, it's not the month to be sad. It's the month to remember those who have empowered you to keep going every single day. It's the month to remember what you have done for others on their journey. And it's the month to be proud of yourself for how far you've come, because even the little steps deserve a celebration. 
There are millions of people all over the world taking on the daily challenges of Type 2 courageously and gracefully. So this month is not just about you, but also all those around the world and maybe even your loved ones with diabetes. 
Diabetes does NOT have to be debilitating or something that takes days or weeks of your life away. There are ways to manage energy crashes, mood swings, and weight. There are ways to sleep well and stay strong. 
We can't emphasize enough how much our mental health and physical health go hand in hand - here are three things on our mind right now: 
Start the month by keeping your inner voice kind and supportive.  It's so easy to find yourself talking to yourself in a negative way, and even worse, listening to it.  
Don't forget to reward yourself and show yourself appreciation for the hard work you put into self care and living a healthy lifestyle.  Pick your rewards for this month now! Visualize how great it will feel when you accomplish your goal.  When you are having a hard day, remember how good you will feel soon.  When you make healthy choices or achieve a health goal - celebrate it and help others with type 2 do the same!  
There is so much to be grateful for living in a time with access to online and physical health resources that can help us in our journeys. Exercise your gratitude - What are you thankful for this month?
One thing we make known in our community, you're never alone when you're with us! Winning Type 2 Diabetes Together is a supportive community for everyone suffering from erratic glucose levels, with an emphasis on type 2 diabetes. Best part? There are 65,000 diabetics cheering each other on. It's the best and biggest place to find support, knowledge, lifestyle tips and recipes; whether you're newly diagnosed or have been coping with the condition for years. We are strong together because of our past and present experiences and shared goal to live healthy lifestyles with Type 2. 
It is possible for diabetes to be a catalyst for you to make lifestyle changes that bring more happiness and wellness into your life! We encourage you to make that journey, and the CuraLife Team is here to support you along the way.
We are wishing you a safe, healthy, and beautiful month ahead and are so proud of everyone in this strong, persistent and compassionate community!