Be "Beach Boys" and Girls: National Beach Day
By Sara Barulli, August 30, 2021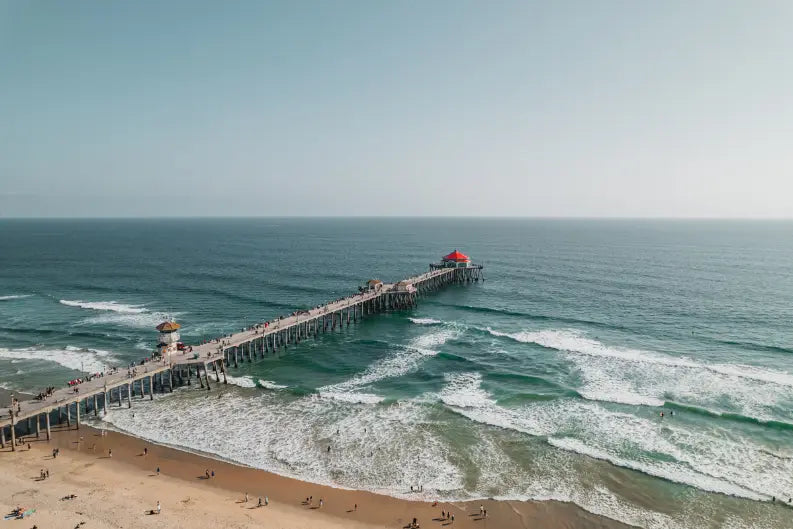 Have you made some time for the beach this summer? The results are in... Here are the top 10 beaches of 2021, according to CNN travel. 
Hapuna Beach State Park, island of Hawai'i

Coopers Beach, Southampton, New York

Ocracoke Lifeguarded Beach, Outer Banks, North Carolina

St. George Island State Park, Franklin County, Florida Panhandle

Lighthouse Beach, Buxton, Outer Banks of North Carolina

Duke Kahanamoku Beach, Oahu, Hawaii

Caladesi Island State Park, Dunedin/Clearwater, Florida

Coronado Beach, San Diego, California

Beachwalker Park, Kiawah Island, South Carolina

Coast Guard Beach, Cape Cod, Massachusetts
If your beach time has been lacking, no worries, August 30th is National Beach Day and it is time to visit YOUR favorite. Why? There are health benefits for type 2's in beach going!  Analysis of English census data revealed a positive association between self-reported health and living near the coast. Studies show that people who live on the coasts are happier. While we can't all live at the beach, there is plenty of shoreline for us all to visit and benefit from.
The beach is good for your mental and physical well being.  The beach can help to relieve stress, regulate hormones, and give you the daily dose of exercise you need to feel tired.  We know that Vitamin D deficiency is associated with a decreased insulin release. 
Spending as little time as 10 minutes in the sun, you can absorb an entire day's worth of vitamin D! The extra vitamin D you absorb throughout your day at the beach will be stored in your body to be used later.
4 Tips for Type 2's at the beach 
Protect your feet 
About half of all people with diabetes have some kind of nerve damage. You can have nerve damage in any part of your body, but nerves in your feet and legs are most often affected. Nerve damage can cause you to lose feeling in your feet. Therefore, you should wear comfortable sandals that fit well, check to make sure there isn't extra sand or pebbles in your shoes before going for a walk. Many beaches can have sharp coral, spiky urchins, rocks or even glass along the shoreline or in the shallow water.  Wearing water shoes or booties with a hard rubber sole can help keep your feet warm and protected in any water conditions. 
Set a timer 
Use your phone, watch or physical timer to help you keep track of your day. Use this reminder to help you remember to check your levels, eat a cool healthy snack, drink more water, or apply more sunscreen. 
Drink plenty of water 
will keep you hydrated and keep your glucose levels in check.  So how much fluid does the average, healthy adult living in a temperate climate need? The U.S. National Academies of Sciences, Engineering, and Medicine determined that an adequate daily fluid intake is:
About 15.5 cups (3.7 liters) of fluids a day for men

About 11.5 cups (2.7 liters) of fluids a day for women
These recommendations cover fluids from water, other beverages and food. About 20% of daily fluid intake usually comes from food and the rest from drinks. Snacking on fresh veggies such as cucumbers, celery, tomatoes, broccoli and carrots which are all over 88% water can also help to quench your thirst and refresh your body on a warm beach outing. 
Find a shady spot
Remember to beat the heat by staying in the shade. Water is a natural air conditioner, and if you're at the beach the temperature is probably a few degrees cooler. Still, don't underestimate the power of shade! If there isn't any where you're going, bring the shade with you. You can create shade by wearing loose fitting clothing, a hat, carrying an umbrella or setting up a tent or umbrella.
Ways to enjoy the beach
The Mayo Clinic reminds us that a healthy lifestyle includes being active for 150 or more minutes a week of moderate to vigorous aerobic activity such as a brisk walk or swimming. Losing weight and maintaining a healthy weight is of the utmost importance. If you have prediabetes, losing 7% to 10% of your body weight can reduce the risk of diabetes. Living a sedentary lifestyle by sitting still for long periods can increase your risk of type 2 diabetes. So you should get up every 30 minutes and move around for at least a few minutes.  These are all reasons why spending part of your day or week should include having a few hours of beach time.  There are countless things to keep you busy at the beach. But, it is mostly a time to give back to yourself whether it is active or inactive time. Enjoy the following:
Beach Clean ups

Walking

Reading

Journaling

Eating outside 
As we round out our summer months, carve out some time to count the clouds, listen to the seagulls, and have a mindful moment to yourself. Don't forget to snap a photo #nationalbeachday and share it to our Facebook group Winning Type 2 Diabetes Together group. This is the place to share your stories, ask the important questions, and get the advice you need to maintain a healthy lifestyle with type 2. Not a member yet? Join our online community of thousands from around the world today.